---

Lower Investment Fees Help Push 401k Fees Down Last Year
BALTIMORE, MD, March 7, 2017 -- "Our data shows 401k fees declined in all sixteen market segments we track. In addition to total plan costs declining, we saw an across the board reduction in 401k investment fees," said Joseph W. Valletta, co-author of the 401k Averages Book.
The average total plan cost for a small retirement plan (100 participants/$5,000,000 assets) declined from 1.28% to 1.25% over the past year, while the average total plan cost for a large retirement plan (1,000 participants/$50,000,000 assets) declined from 0.97% to 0.96% according to the newly released 17th Edition of the 401k Averages Book.
Smaller Plans Still Paying More Than Larger Plans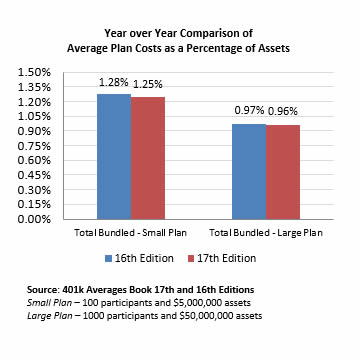 "Although 401k fees have been declining, if you work for a small company you're probably paying higher fees in your 401k plan," said David Huntley, co-author of the 401k Averages Book. The average cost for a micro plan (10 participants and $500,000 in assets) is 1.85%, while the small plan and large plan averages are 1.25% and 0.96%, respectively. "Even with small companies paying more attention to their plan fees it's still more costly to deliver the services to a small number of participants."
Wide Range Between Low and High Cost Providers
"The 401k marketplace has seen great changes, ranging from comprehensive 408(b)(2) fee disclosure to the delayed Fiduciary Rule. The good news is that all these actions have brought a heightened awareness to fees. The bad news is the range between the high cost and low cost providers is still wide," said Valletta. The book shows the range between the high and low total plan costs on a small plan is .46% to 1.69%, while a large plan is 0.28% to 1.21%.
About 401k Averages Book
Published since 1995, the 401k Averages Book is the only resource book available for non-biased, comparative 401k average cost information. It's designed to provide retirement plan advisors, employers and financial professionals with essential 401k cost information needed to determine if their 401k plan costs are above or below average. The 17th Edition of the 401k Averages Book is available for $95 and can be purchased by calling 888-401-3089 or online at www.401ksource.com.
###
Click here for more material dealing with current trends, opinion, news, legislative action, investments, marketing, sales, consulting, and legal issues on 401k plans.
This is a press release provided by the company mentioned or its representatives. Although 401khelpcenter.com may edit the release for editorial consistency, spelling, grammar, punctuation, or other editorial issues, it is not the author of the press release. Use of any information obtained from this release is voluntary, and reliance on it should only be undertaken after an independent review of its accuracy, completeness, efficacy, and timeliness. Reference to any specific commercial product, process, or service by trade name, trademark, service mark, manufacturer, or otherwise does not constitute or imply endorsement, recommendation, or favoring by 401khelpcenter.com.