---

Fidelity Launches Funds to Simplify RMD Process
BOSTON, MA, June 12, 2017 -- The first full wave of baby boomers will reach the required minimum distribution (RMD) age of 70½ this year. By 2018, millions of Americans will begin taking an RMD from their tax-deferred retirement accounts, such as traditional individual retirement accounts (IRAs), each year. As a leading financial services provider and America's retirement leader, Fidelity Investments® today introduced the Fidelity Simplicity RMD Funds?.
"If not done correctly, investors may experience a 50% tax penalty on any amount not withdrawn by the annual deadline. "
Designed to help take the guesswork out of determining a suitable allocation for assets that are subject to RMDs, Fidelity's industry-first suite of mutual funds combines an age-appropriate and professionally-managed investment strategy with an optional automated calculation and distribution method to satisfy annual RMD requirements on the investor's behalf.
"Retirees often struggle to understand when, which assets, what amount and how to take the annually mandated withdrawal from their tax-deferred retirement accounts," said Ken Hevert, senior vice president of Retirement at Fidelity Investments. "If not done correctly, investors may experience a 50% tax penalty on any amount not withdrawn by the annual deadline.
"Further, once the RMD has been made, investors find themselves unsure of whether or not they are being too conservative or too aggressive with the remaining investments. The Fidelity Simplicity RMD Funds complement our suite of automatic RMD services, and will provide a simple and innovative solution for investors to help alleviate many of the concerns around taking annual RMDs," continued Hevert.
Fidelity Simplicity RMD Funds -- How Do They Work?
The Fidelity Simplicity RMD Funds invest in a combination of equity, fixed-income and short-term Fidelity mutual funds according to a strategic asset allocation that adjusts automatically and becomes more conservative as an investor ages. Each fund name includes a date, which can help investors choose the fund that most closely aligns with the year they turn 70, as initial RMDs are required starting at age 70½.
The Fidelity Simplicity RMD Funds with longer time horizons will invest in a greater percentage of equities, while the funds with shorter time horizons will emphasize fixed-income and short-term assets. There are five Simplicity RMD Funds:
Fidelity Simplicity RMD Income
Fidelity Simplicity RMD 2005
Fidelity Simplicity RMD 2010
Fidelity Simplicity RMD 2015
Fidelity Simplicity RMD 2020
"Leveraging Fidelity's 30-years of experience managing multi-asset class portfolios, the Simplicity RMD Funds are supported by an investment process that focuses on creating a portfolio that is designed to help investors achieve their retirement objectives. As a result, the foundation of the funds is the glide path, built to balance investment returns and risk in conjunction with an RMD," said Andrew Dierdorf, portfolio manager on Fidelity's target date team, including Fidelity Simplicity RMD Funds. "The glide path for the Simplicity RMD Funds has been designed to provide appropriate portfolio diversification over time, while recognizing the unique needs and time horizon for investors who begin taking RMDs at age 70½."
The funds are designed for investors who are nearing age 70½ or older, or will turn age 70 in or within a few years of the applicable fund, and plan to withdraw the value of their investment in the fund over time (in accordance with IRS rules). For example, a traditional IRA owner who turned 70½ in 2015 would select the Simplicity RMD 2015 Fund. The table below shows the ranges of investor birth dates for which each fund was created and each fund's total expenses.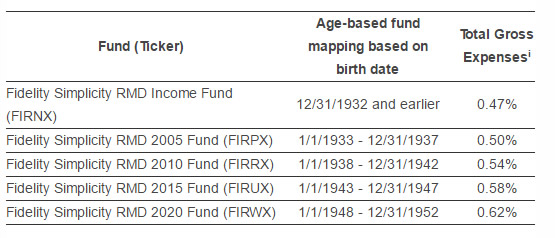 Once a customer invests in a Simplicity RMD Fund, they can set up their distributions through Fidelity's automatic withdrawals service, allowing them to easily satisfy the annual RMD and begin receiving income from their eligible retirement accounts. By signing up, Fidelity automatically calculates and distributes the investor's RMD each year, monitoring withdrawal activity, while providing a seamless experience for reinvesting or managing their spending. Enrollment can be completed when investing in a Simplicity RMD Fund or any time after at Fidelity.com.
Fidelity Offers Various RMD Resources to Educate Investors
In addition to the new Fidelity Simplicity RMD Funds, Fidelity offers a variety of resources to help educate the millions of investors about RMDs, including:
Viewpoints articles about taking RMDs by the IRS deadline, and how to include RMDs as part of an overall retirement income strategy;
Answers to frequently-asked questions about RMDs;
An RMD calculator to help determine annual minimum distribution amounts;
Access to Fidelity's online Retirement Distribution Center, which estimates each account's RMD and allows customers to set up, track and manage IRA withdrawals; and
Fidelity's Learning Center, providing a variety of resources, including: "To delay or not to delay? Options for taking your first Minimum Required Distribution (MRD)."
About Fidelity Investments
Fidelity's mission is to inspire better futures and deliver better outcomes for the customers and businesses we serve. With assets under administration of $6.0 trillion, including managed assets of $2.2 trillion as of April 30, 2017, we focus on meeting the unique needs of a diverse set of customers: helping more than 26 million people invest their own life savings, 23,000 businesses manage employee benefit programs, as well as providing more than 12,500 financial advisory firms with investment and technology solutions to invest their own clients' money. Privately held for 70 years, Fidelity employs 45,000 associates who are focused on the long-term success of our customers. For more information about Fidelity Investments, visit https://www.fidelity.com/about.
###
Click here for more material dealing with current trends, opinion, news, legislative action, investments, marketing, sales, consulting, and legal issues on 401k plans.
This is a press release provided by the company mentioned or its representatives. Although 401khelpcenter.com may edit the release for editorial consistency, spelling, grammar, punctuation, or other editorial issues, it is not the author of the press release. Use of any information obtained from this release is voluntary, and reliance on it should only be undertaken after an independent review of its accuracy, completeness, efficacy, and timeliness. Reference to any specific commercial product, process, or service by trade name, trademark, service mark, manufacturer, or otherwise does not constitute or imply endorsement, recommendation, or favoring by 401khelpcenter.com.