---

Guest Article

Financial Wellness Programs and the Impact on Retirement Plan Deferral Rates
Question: My company is considering a financial wellness program and wants to know what the impact is on retirement plan deferral rates before we move forward since employee retirement preparedness is a major concern for us. Do you have research and best practices supporting that?
At first glance, companies may not realize the impact of financial wellness on retirement plan contributions because topics such as debt reduction and estate planning don't seem to directly impact retirement. But research has shown a direct correlation with financial education and plan contribution rates. In a recent study of a multi-channel financial wellness program, employees who only had one interaction with financial education in the wellness program had a 5.77% contribution rate to their retirement plan, but as they attended more workshops, had meetings with a planner at the worksite, or used the online education program (even when the topic was not retirement related), their contribution rates increased. Employees who had five or more interactions had an 11% contribution rate.
In a separate study of a company that used the financial education component of its financial wellness program to communicate important information to employees during an acquisition, the average deferral rate for newly acquired employees increased 44%, and overall plan contributions increased from 3.5% to 5%. The reason financial wellness is so effective is because many employees don't participate in their plan, or they do participate but only at minimal levels, because they lack the resources to do so. When these employees are able to address the root cause-poor cash management skills and high debt-they are able to free up money to fund their retirement.
There are some key things to be aware of, however, before you move forward with a financial wellness program aimed at increasing employees' deferral rates. For starters, education is a process, not an event, and it takes time for employees to cut expenses, reduce their debt levels, and free up cash to invest in their retirement plans. The companies that achieve the strongest increase in deferral rates typically have had a program in place for at least three years prior to conducting a study on the impact of financial education on deferral rates. Far too many employers do far too little on the education side and expect far too much.
A major commitment is needed to achieve major results. This means an ongoing program that is available to all employees as an additional employee benefit, and is offered through multiple channels so that employees can access the education at their convenience in order to address their personal financial issues and to develop a plan that works for them based on their unique financial situation and goals. You need to reach most of the employees with the education to see a major difference in deferral rates. You also need to institutionalize the education into your culture so that it becomes a key part of your employee benefits offering, and financial wellness becomes one of your key commitments to your employees.
All that said, programs that are executed well can and do consistently make a huge difference in your overall employees' retirement preparedness. Employees that participate in a financial wellness program typically show improvement in their asset allocation, and they generally make better distribution decisions when they retire so that they are able to make their nest eggs last throughout retirement. The expense of these programs, even when executed on a large scale, is miniscule when compared to the cost of delayed retirement-estimated to range from $10,000-$50,000 per employee for every year that an employee delays retirement beyond normal retirement age.
Resources
Case Study on Aetna's Award Winning Financial Wellness Program
US Workers Delaying Retirement
The Conference Board - Executive Action Series
SHRM article - Workers Delaying Retirement
About Financial Finesse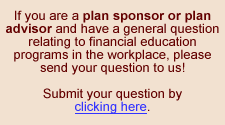 Financial Finesse was founded with a single mission: Provide people with the information they need to become financially independent and secure. Today, we are the leading provider of unbiased financial education for large companies and municipalities. Our financial education services are fully integrated programs designed to address the strategic goals of the organizations we service and are delivered by on-staff Certified Financial Planner™ professionals as an employee benefit. If you are interested in learning more about workplace financial education programs, contact one of our education consultants at AskFF@financialfinesse.com.
The Ask Financial Finesse Q&A service is designed to provide general information on trends and developments in workplace financial education programs and participant education strategies. Due to the complex nature of financial benefits and/or workplace financial issues, the information contained in this document is not to be construed as advice.
###
401khelpcenter.com is not affiliated with the author of this article nor responsible for its content. The opinions expressed here are those of the author and do not necessarily reflect the positions of 401khelpcenter.com.