MassMutual Retirement Enhances Participant Statement
SPRINGFIELD, MA, August 6, 2012 -- MassMutual's Retirement Services Division has enhanced its defined contribution (DC) participant statements (1) to help paint a clearer picture of participant retirement readiness. Leveraging the same valuable data provided by the company's industry-leading online RetireSmartSM Ready tool, the enhanced second quarter RetireSmart Ready statement conveniently provides participants with a new perspective around retirement outcomes, by clearly gauging the likelihood of reaching their retirement goals based on their current strategies.
The action-inspiring RetireSmart Ready information (pictured below) is designed to help participants:
Annually track their progress towards reaching their personal replacement income goals in retirement, and
Review a simple action plan to keep them on track. Participants can easily implement the action plan online by logging into their MassMutual retirement plan account at www.retiresmart.com and accessing the "Take Action" button, or through MassMutual's award winning participant call center. On average, participants who implement the optional changes proposed by using MassMutual's RetireSmart Ready tool improve their likelihood of being retirement ready (2) by nearly 40%.
"MassMutual Retirement Services is dedicated to helping participants retire on their own terms by making it easier to take action," says Tina Wilson, CFA, AIF, vice president of product development for MassMutual's Retirement Services Division. "We firmly believe that when a participant understands the outcomes of their actions, it can go a long way towards motivating them to get - and stay - on track. We will continue to put actionable tools in the hands of retirement plan advisors, plan sponsors and participants with the goal of helping more participants achieve a successful retirement," adds Wilson.
MassMutual's smart tools and services are designed to work together in an integrated fashion. Each is based on and provides the same personalized data, making the planning process easier for both retirement plan sponsors and participants.
MassMutual PlanSmartSM Analysis - Designed for retirement plan sponsors and their advisors, MassMutual's PlanSmart Analysis report is a plan-level tool that goes well beyond traditional, activity-based metrics by assessing the percentage of employees who are on track to replace a specified level of income in retirement.
RetireSmart Ready Tool - A participant-level solution that helps participants determine their chances for a successful retirement based on their income replacement needs.
Enhanced RetireSmart Ready Statements - Sent annually following the close of the second quarter, the enhanced RetireSmart Ready statement provides a regular financial check to help participants stay on track.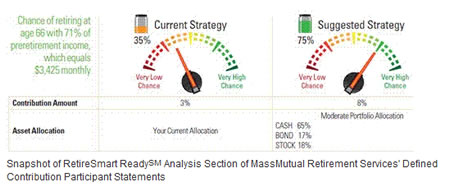 About MassMutual
Founded in 1851, MassMutual is a leading mutual life insurance company that is run for the benefit of its members and participating policyholders. The company has a long history of financial strength and strong performance, and although dividends are not guaranteed, MassMutual has paid dividends to eligible participating policyholders every year since the 1860s. With whole life insurance as its foundation, MassMutual provides products to help meet the financial needs of clients, such as life insurance, disability income insurance, long term care insurance, retirement/401k plan services, and annuities. In addition, the company's strong and growing network of financial professionals helps clients make good financial decisions for the long-term.
For more information about MassMutual Retirement Services, please contact your retirement plan advisor or call MassMutual at 1-866-444-2601.
1. Available to clients that activated the Plan Smart Analysis report as of March 31, 2012 and selected this feature for their participants. MassMutual's PlanSmart Analysis report is available to plan advisors and sponsors who meet certain plan and systems requirements via MassMutual's Total Retirement Center website.
2. Experts advise that most people will need at least 75% of their pre-retirement income to cover their expenses in retirement. According to that approach, a person who makes $40,000 per year while working would need to have access to $30,000 per year from savings in retirement.
###
Click here for more material dealing with current trends, opinion, news, legislative action, investments, marketing, sales, consulting, and legal issues on 401k plans.
This is a press release provided by the company mentioned or its representatives. Although 401khelpcenter.com may edit the release for editorial consistency, spelling, grammar, punctuation, or other editorial issues, it is not the author of the press release. Use of any information obtained from this release is voluntary, and reliance on it should only be undertaken after an independent review of its accuracy, completeness, efficacy, and timeliness. Reference to any specific commercial product, process, or service by trade name, trademark, service mark, manufacturer, or otherwise does not constitute or imply endorsement, recommendation, or favoring by 401khelpcenter.com.