---

Cafaro Greenleaf Fills Managing Director of Operations Position
RED BANK, NJ, September 27, 2016 -- Cafaro Greenleaf (CG), a leading national advisory firm for corporate and public retirement plans headquartered in Red Bank, N.J., is thrilled to announce Brian Clark will serve as the new Managing Director of Operations. He will be joining Cafaro Greenleaf with over 28 years of experience and will be leading, managing and overseeing all firm operations.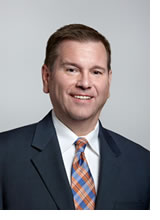 "The addition of this key role at Cafaro Greenleaf reaffirms our commitment to our valued clients and trusted advisor partners, as we continue to grow, evolve and lead in this ever-changing industry and regulatory environment. We are very excited to welcome Brian Clark to our firm in this important role. His many years of experience in the retirement sector and his leadership skills will be a great asset to Cafaro Greenleaf, and our clients, advisors, and staff." commented Wayne Greenleaf, Managing Principal of CG.
As an experienced executive in financial services, Clark has focused on group retirement benefits for over 28 years and is a strong proponent of saving and investing for retirement. Brian has built a career on maximizing the benefits of organizations on defined contribution, defined benefits and nonqualified plans. His depth of knowledge extends to plan design, governance, operations, administration, investments and education. He has witnessed many changes in the retirement industry firsthand and has been a trusted guide for his clients in navigating these modifications to balance both sponsor needs and successful retirement objectives.
Clark has a history of leading high performing teams and a track record of excellence in relationship management, retirement education and operations. Earlier in his career, he managed the operational components of one of the largest ever retirement provider acquisitions. Considered an expert on conversion management, he has spoken at several industry conferences on best practices for changing providers.
Clark has also held the roles of Regional Vice President of Client Relations and Business Development for Prudential and Vice President of Relationship Management at New York Life. His most recent position was with VOYA Financial, a top five provider in the retirement industry. He earned his B.S. in Marketing from the University of Scranton and his M.B.A. in Management from Marywood University. He holds FINRA Series 6, 26, 63 licenses.
"Cafaro Greenleaf has built an outstanding reputation as a trusted guide for its clients with an enduring focus on helping plan sponsors create and administer plans that prepare their participants to reach their retirement goals. I'm honored to join an organization that has long been among the most highly regarded firms in the industry," Clark commented.
About Cafaro Greenleaf
Cafaro Greenleaf, founded in 1981 and long considered a pioneer in the Retirement Plan Consulting Industry, is a boutique firm comprised of professional retirement plan advisors and consultants to corporate, public, and institutional clients. Serving organizations along the East Coast and nationally, Cafaro Greenleaf provides extensive consulting services in the areas of retirement plan design, co-fiduciary services, investment advising, employee financial education and executive benefits. Cafaro Greenleaf is a growing advisor partnership with offices in NJ, MD, SC, FL, IN and TX.
For more information about Cafaro Greenleaf, please visit www.cafarogreenleaf.com.
###
Click here for more material dealing with current trends, opinion, news, legislative action, investments, marketing, sales, consulting, and legal issues on 401k plans.
This is a press release provided by the company mentioned or its representatives. Although 401khelpcenter.com may edit the release for editorial consistency, spelling, grammar, punctuation, or other editorial issues, it is not the author of the press release. Use of any information obtained from this release is voluntary, and reliance on it should only be undertaken after an independent review of its accuracy, completeness, efficacy, and timeliness. Reference to any specific commercial product, process, or service by trade name, trademark, service mark, manufacturer, or otherwise does not constitute or imply endorsement, recommendation, or favoring by 401khelpcenter.com.