---

Fiduciary Rule Will Change DC Plan Fund Menus in 2017
NEW YORK, NY, October 6, 2016 -- The US Department of Labor's Conflict of Interest Rule, commonly known as the fiduciary rule, will cause a surge in mutual funds being reviewed and replaced in employer-sponsored define contribution (DC) retirement plans, even before the Jan. 1, 2018 deadline for full compliance.
Before the rule goes into effect, one-third of financial advisors who counsel DC plans already plan to make changes to mutual funds used in their clients' DC plans in 2017. And another 9% are likely to make such changes, according to research from Ignites Retirement Research, a Financial Times (FT) service.
That's because 55% of the DC plan advisors surveyed by Ignites Retirement Research either plan to or are very likely to review the mutual funds used in client DC plans, before the fiduciary rule takes effect.
The new regulation mandates that advice to retirement accounts adhere to the fiduciary standard, which requires the advisor to put clients' interests before their own. To eliminate potential conflicts of interest, the rule will make it more difficult for advisors to DC plans to recommend investment products that pay the advisors additional compensation.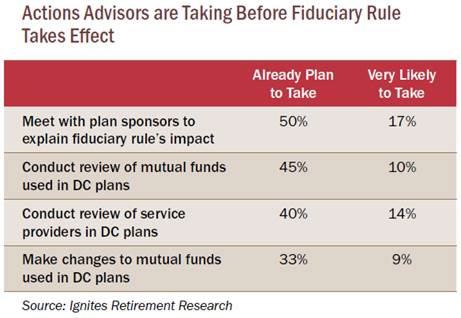 Ignites Retirement Research surveyed 251 elite plan advisors with an average of $770 million in DC assets under management. Already, 50% of these advisors say they are busy scheduling meetings with plan sponsors about the impact of the rule and reviewing investment products (strategies, investment vehicles, fee structures, share classes) in DC plans. And another 17% of these advisors are very likely to meet with plan sponsors before the fiduciary rule's final deadline.
These findings, and more, are contained in Ignites Retirement Research's new report, Adapting DCIO Strategy for the Fiduciary Rule. The report examines how DCIO managers can navigate the Department of Labor's fiduciary rule and thereby strengthen relationships with plan advisors.
"The fiduciary rule will cause plan advisors to scrutinize the cost of mutual funds in DC plans, which should set in motion tens of billions of dollars in mutual fund assets," says Loren Fox, director of Ignites Retirement Research and co-author of the report. "DC plans are gradually shifting to lower-cost and passive products That will make pricier, actively managed mutual funds a harder sell."
Some 26% of plan advisors surveyed in the report expect index equity mutual funds to be the top winner in DC plans in the aftermath of the implementation of the fiduciary rule; this makes sense because actively managed funds are on average more expensive than index funds. For similar price reasons, 23% of plan advisors plan to increase their use of products mixing active and passive strategies.
Among the products likely hurt by the fiduciary rule, 8% of plan advisors expect to scale back their use of variable annuities, most of which sell on a commission basis and therefore represent potential conflicts of interest under the new regulations. And 7% of plan advisors expect to reduce their use of actively managed equity mutual funds in DC plans.
The new report, Adapting DCIO Strategy for the Fiduciary Rule, examines how mutual fund firms and other asset managers can navigate the new fiduciary rule and thereby strengthen relationships with specialist plan advisors.
The panel of specialist plan advisors was drawn from the Financial Times Top 401 Plan Advisors, a group of 401 DC advisors from across the US. Advisors applied for inclusion in the list, which was ranked by Ignites Retirement Research and published in the Financial Times.
Please refer to the contact details below for more information about the findings of this report.
The table from this press release, or data contained in the table, may be used in your publication only with proper attribution to Ignites Retirement Research.
About Ignites Retirement Research
Ignites Retirement Research is dedicated to helping DCIO teams optimize their exposure and use in employer-sponsored retirement plans. Our specialized reports provide valuable insight and actionable recommendations based on proprietary surveys of retirement plan advisors, fund executives, plan sponsors and others. To learn more about Ignites Research, please visit www.ignites-research.com.
###
Click here for more material dealing with current trends, opinion, news, legislative action, investments, marketing, sales, consulting, and legal issues on 401k plans.
This is a press release provided by the company mentioned or its representatives. Although 401khelpcenter.com may edit the release for editorial consistency, spelling, grammar, punctuation, or other editorial issues, it is not the author of the press release. Use of any information obtained from this release is voluntary, and reliance on it should only be undertaken after an independent review of its accuracy, completeness, efficacy, and timeliness. Reference to any specific commercial product, process, or service by trade name, trademark, service mark, manufacturer, or otherwise does not constitute or imply endorsement, recommendation, or favoring by 401khelpcenter.com.