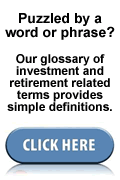 Welcome to 401khelpcenter.com
With the explosive growth of government and private internet sites containing information, opinion, analysis, marketplace news, legislation, court cases, rules, and other 401k and 403(b) resources, your challenge to identify salient information and issues that really matter is greater than ever. That's where 401khelpcenter.com excels. We are a knowledge service that curates -- finds, reviews, organizes and shares -- the best and most relevant information for people who sponsor, advise, design, administer, make policy about, participate, or are otherwise interested in 401k and 403(b) plans.
Marketplace News
Great-West Launches Interactive Online Retirement Savings Tool
ABG-Illinois Launches Plan Contribution Limits App
DCIIA Executive Committee Elects New Members
Bloomberg BNA Publishes 2013 Cumulative Supplement to ERISA Litigation
Transamerica Expanses Pension Sales and Distribution Team
---

Daily News Digest
The Daily News Digest is where we aggregate the latest published material on 401k trends, fiduciary issues, legislative action, court cases, opinion, rule changes, insights, surveys, studies, commentary and more. The information is updated daily. Here are some of the latest items.
Summary: Most employer plan sponsors use an investment adviser to help them with their 401k plans. This is a smart decision since most advisers are able to save plan sponsors at least as much as they charge in fees each year. How can you tell if you are working with a good investment adviser?
Source: Benefitnews.com, December 2013
Summary: China is getting ready to revamp its antiquated pension system with a 401k-style tax-deferred corporate annuity system. On Jan. 1, corporate and employee contributions to the pension fund will be partly exempted from income tax based on each individual's paycheck. The tax will be deferred until the fund is withdrawn upon retirement, and it will not be imposed on fund investment returns.
Source: Ibtimes.com, December 2013
---

Collected Wisdom™
Our researchers look for what they think are some of the better resources available to assist you in administering your plan or helping your clients. We group these resources in our COLLECTED WISDOM™ topics to make it easy for you to locate the information you need. Each item in a category contains a summary and date of when it was placed in the group.
We also maintain some older material in these collections for perspective and context.
---

Insights: Research and White Papers
There is a great deal of research published around defined contribution plans and related issues. We index much of it here.
Summary: Managing volatility is a way to enhance investors' experience by modifying the impact on participants when the risk of extreme losses is elevated. But DC plan sponsors sometimes have three "perception hurdles" when seeking to incorporate an approach to managing volatility in their plans' QDIAs: concerns over potentially higher costs, fiduciary liability and implementation issues. But these are perceived hurdles -- not substantial ones.
Source: Alliancebernstein.com, December 2013
Summary: A new report calculates the severity of the U.S. retirement security racial divide. The analysis finds that every racial group faces significant risks, but people of color face particularly severe challenges in preparing for retirement. Americans of color are significantly less likely than whites to have an employer-sponsored retirement plan or an individual retirement account (IRA), which substantially drives down the level of retirement savings.
Source: 401khelpcenter.com, December 2013
---

Tools and Resources
Calculators, charts, samples, directories and other resources to help you run and manage your plan or practice.
---

Fiduciary Related News and Intelligence
These are general news and articles around fiduciary issues.
Summary: Even as the SEC is contemplating an expansion of fiduciary rules to include broker-dealers who operate in the retail space, some advocates argue that the regulatory interpretation of the responsibilities under a fiduciary standard has strayed from common-law precedent and become dangerously diluted.
Source: Financial-Planning.com, December 2013
---

Legal, Legislative and Washington DC
This is a directory and index of articles that review recent court rulings, legal issues, and bills, hearings and other actions in Congress.
Summary: ERISA defendants have long maintained that there is no statutory or constitutional right to a jury trial in ERISA cases. Almost always, the courts have agreed, citing ERISA's trust law origins and the Seventh Amendment's application only to suits seeking legal, not equitable, relief. The reasoning goes that because under ERISA you may obtain only relief that was traditionally available in courts of equity, the right to a jury trial does not exist.
Source: Erisa-employeebenefitslitigationblog.com, December 2013
---

Viewpoint: Commentary and Opinion
People speak out on a variety of issues of interest to those in the 401k industry. One of our most interesting areas, but remember, opinions expressed here are those of the author and do not necessarily reflect the positions of 401khelpcenter.com.
Summary: Last week three industry lobby groups jointly published a research paper that was very supportive of the continuing use of 401k plans by Americans saving for retirement. In this article author writes that the research paper is "an opinion/spin piece."
Source: Employeefiduciary.com, December 2013
---

Most Popular
Below you'll find this week's five most popular articles.