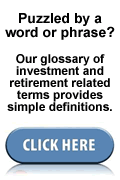 Welcome to 401khelpcenter.com
With the explosive growth of government and private internet sites containing information, opinion, analysis, marketplace news, legislation, court cases, rules, and other 401k and 403(b) resources, your challenge to identify salient information and issues that really matter is greater than ever. That's where 401khelpcenter.com excels. We are a knowledge service that finds, reviews, organizes and shares the best and most relevant information for people who sponsor, advise, design, administer, make policy about, participate, or are otherwise interested in 401k and 403(b) plans.
Marketplace News
WMSI Launches Small Business Retirement Plan Comparison Calculator
IRIC Announces Lincoln Financial, Voya as Newest Sponsors
ADP Launches 'IPS Zero' Platform
Transamerica to Host Second Annual Retirement Readiness Summit
BlackRock Enhances CoRI Retirement Suite
Principal Hosts ERISA 3(16) Webcast for TPAs
InHub Launches RFP Tool for Institutional Investors
Invesco National Trust Launches 15 New CTFs
---

Daily News Digest
The Daily News Digest is where we aggregate the latest published material on 401k trends, fiduciary issues, legislative action, court cases, opinion, rule changes, insights, surveys, studies, commentary and more. The information is updated daily. Here are some of the latest items.
Summary: Are your retirement plan fees market competitive? Do you meet your fiduciary obligations regarding provider fee review each year? Consider these best practices relating to fees.
Source: Lawtonrpc.com, April 2014
Summary: A retirement plan sponsor is often paralyzed by fear because they don't know the responsibilities of being a plan sponsor or what to do, so this article will help a plan sponsor avoid being the deer in the headlights if there ends up being an issue with the plan.
Source: Jdsupra.com, April 2014
---

Collected Wisdom™
Our researchers look for what they think are some of the better resources available to assist you in administering your plan or helping your clients. We group these resources in our COLLECTED WISDOM™ topics to make it easy for you to locate the information you need. Each item in a category contains a summary and date of when it was placed in the group.
We also maintain some older material in these collections for perspective and context.
---

Insight: Research and White Papers
There is a great deal of research published around defined contribution plans and related issues. We index much of it here.
Summary: ICI's latest study of retirement plan savers' actions, based on defined contribution plan recordkeeper data covering nearly 24 million DC plan participant accounts, shows Americans' continuing commitment to putting away money for retirement.
Source: 401khelpcenter.com, April 2014
Summary: Key Findings: Defined contribution plan withdrawal activity in 2013 remained low and was similar to the prior year's activity; the vast majority of DC plan participants continued contributing to their plans in 2013; most DC plan participants stayed the course with their asset allocations as stock values generally rose throughout the year; and, DC plan participants' loan activity remains elevated compared with five years ago.
Source: Ici.org

, April 2014
---

Tools and Resources
Calculators, charts, samples, directories and other resources to help you run and manage your plan or practice.
---

Fiduciary Related News and Intelligence
These are general news and articles around fiduciary issues.
Summary: The U.S. Court of Appeals in St. Louis has affirmed a trial court ruling that plan fiduciaries violated their duties under ERISA by failing to monitor excessive fees remitted to a recordkeeper that was paid through revenue sharing. In addition, the court absolved the recordkeeper of liability for its use of float income retained on plan investments.
Source: Wolterskluwerlb.com, April 2014
---

Legal, Legislative and Washington DC
This is a directory and index of articles that review recent court rulings, legal issues, and bills, hearings and other actions in Congress.
Summary: As fewer Americans accumulate sufficient savings and the solvency of Social Security is threatened, how Americans adequately prepare for retirement has become a critical question. To address this long-term challenge, the Bipartisan Policy Center announced the launch of a new Personal Savings Initiative.
Source: 401khelpcenter.com, April 2014
---

Viewpoint: Commentary and Opinion
People speak out on a variety of issues of interest to those in the 401k industry. One of our most interesting areas, but remember, opinions expressed here are those of the author and do not necessarily reflect the positions of 401khelpcenter.com.
Summary: Author writes, "The lack of mandates for an adequate retirement plan is ironic given that most long-serving members of Congress look forward to more generous pensions than the vast majority of their constituents. A member of Congress retiring with 20 years of service under Federal Employees' Retirement System and a high three-year average salary of $174,000 will get an initial annual FERS pension of more than $59,000 -- on top of Social Security."
Source: Huffingtonpost.com, April 2014
---

Most Popular
Below you'll find this week's five most popular articles.