Connect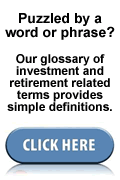 Welcome to 401khelpcenter.com
With the explosive growth of government and private internet sites containing information, opinion, analysis, marketplace news, legislation, court cases, rules, and other 401k and 403(b) resources, your challenge to identify salient information and issues that really matter is greater than ever. That's where 401khelpcenter.com excels. We are a knowledge service that curates -- finds, groups, organizes and shares -- the best and most relevant information for people who sponsor, advise, design, administer, make policy about, participate, or are otherwise interested in 401k and 403(b) plans.
Marketplace News

Mesirow Launches 3(38) Fiduciary Services on RPG Consultants Platform

Roetzel Adds ERISA Attorney to Chicago Office

Tegrit Group Names New VP of Retirement Plan Services

Guardian Expands National 401k Sales Team

Plan Sponsor Advisors Releases TDF Diagnostic Tool
---

Daily News Digest
The Daily News Digest is where we aggregate the latest published material on 401k trends, fiduciary issues, legislative action, court cases, opinion, rule changes, insights, surveys, studies, commentary and more. The information is updated daily.
Summary: It seems like at every industry conference someone is exhorting advisors to get active on social media. That's largely because advisors need to rapidly build an authentic relationship of trust, and demonstrate their expertise and influence, if they're going to win new clients. Twitter is one of the best ways to do that. It's an easy way to share thoughts, ideas and links, is readily found when a client Googles your name, and can be a high-ROI way to demonstrate expertise.
Source: Riabiz.com, May 2013
Summary: As of December 2012, defined contribution in-plan guarantee assets totaled $2.2 billion and is primarily driven by small-plan adoption, according to a new LIMRA sales survey measuring market growth of in-plan guarantees.
Source: 401khelpcenter.com, May 2013
---

Collected Wisdom™
Our researchers look for what they think are some of the better resources available to assist you in administering your plan or helping your clients. We group these resources in our COLLECTED WISDOM™ topics to make it easy for you to locate the information you need. Each item in a category contains a summary and date of when it was placed in the group.
We also maintain some older material in these collections for perspective and context.
---

Insights: Research and White Papers
There is a great deal of research published around defined contribution plans and related issues. We index much of it here.
Summary: The fifth annual 403(b) plan survey from the Plan Sponsor Council of America shows that both sponsors of 403(b) plans and participants increased their financial commitments to retirement savings in 2012. From participation and savings to employer contributions, the numbers from the latest survey of 403(b) plans generally point in one direction: up.
Source: 401khelpcenter.com, May 2013
Summary: Key 2013 survey highlights include the following: Automation solutions continue to play a key role in plan design as approximately 55% of plan sponsors surveyed offer an automatic enrollment feature. Interest in step-up deferral rate solutions continues to rise as 44% of respondents offer this as an option. The rapid growth of target date funds continues as more than 85% of plan sponsors report utilizing this type of solution. Fee disclosure is top of mind with almost 88% of plan sponsors reviewing implicit and explicit plan fees in the past six months. Participant interest in fee disclosure, however, is surprisingly low, with more than 83% of plan sponsors indicating that employees have had very few questions as a result of 404(a) participant fee notification.
Source: Mesirowfinancial.com

, May 2013
---

Tools and Resources
Calculators, charts, samples, directories and other resources to help you run and manage your plan or practice.
---

Viewpoint: Commentary and Opinion
People speak out on a variety of issues of interest to those in the 401k industry. One of our most interesting areas, but remember, opinions expressed here are those of the author and do not necessarily reflect the positions of 401khelpcenter.com.
Summary: In this interview with Barbara Roper, Consumer Federation of America's director of investor protection, she deals with questions like, what is the most obvious reason we should have a fiduciary standard, why is the biggest fear not that regulators don't act, but that they do, and what's the one thing all 401k plan sponsors should ask their adviser?
Source: Fiduciarynews.com, May 2013
---

Legal, Court and Legislative Items of Interest
This is a directory and index of articles that review recent court rulings and bills, hearings and other actions in Congress.
Summary: Morgan Stanley has been sued by an Alabama medical laboratory that claims it steered retirement plan business to ING U.S. Inc. and others in exchange for extra fees in an illegal "pay-to-play" scheme.
Source: Reuters.com, May 2013
---

Fiduciary Related News and Intelligence
These are general news and articles around fiduciary issues.
Summary: The U.S. Court of Appeals for the Seventh Circuit has recently decided a case challenging the amount of fees paid by 401k plan participants, Leimkuehler v. Am. United Life Ins. Co. This opinion is likely to have vast implications for that type of litigation specifically and the scope of fiduciary status generally.
Source: Benefitnews.com, May 2013
---

The Five Most Popular
Here are this weeks five most popular articles.