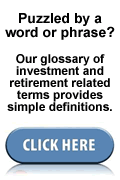 Welcome to 401khelpcenter.com
With the explosive growth of government and private internet sites containing information, opinion, analysis, marketplace news, legislation, court cases, rules, and other 401k and 403(b) resources, your challenge to identify salient information and issues that really matter is greater than ever. That's where 401khelpcenter.com excels. We are a knowledge service that finds, reviews, organizes and shares the best and most relevant information for people who sponsor, advise, design, administer, make policy about, participate, or are otherwise interested in 401k and 403(b) plans.
Marketplace News
Great-West Issues 'Report Card' on Retirement Readiness
Schwab Cuts Expense Ratios in Target-Date Collective Trusts
Arnerich Massena Rolls Out Fiduciary Education Program
CUNA Mutual Unveils Multiple Employer 401k Plan
CUNA Mutual Adds Eight Regional Sales Consultants
BrightScope Adds Chris Riggio as 'Chief Revenue Officer'
SageView Bolsters San Francisco Presence With Hires
401k Plans a Powerful Resource for Retirement Savers
MassMutual Retirement Announces New Senior Management
---

Daily News Digest
The Daily News Digest is where we aggregate the latest published material on 401k trends, fiduciary issues, legislative action, court cases, opinion, rule changes, insights, surveys, studies, commentary and more. The information is updated daily. Here are some of the latest items.
Summary: The Social Security Administration announced that it will discontinue its letter-forwarding program, through which it attempts to help third-parties communicate serious financial or familial matters to "missing" individuals, in one month.
Source: Planadviser.com, April 2014
Summary: Less well known, but equally important, is the fact that ERISA also spells out how long a plan sponsor must retain plan documents and records that support those obligations. While it is fairly common for a plan sponsor to contract with outside service providers who may provide certain reports and prepare the plan's Form 5500 filing, the plan administrator is ultimately responsible for retaining adequate records to support the reports and filings. Article details the rules.
Source: Kravitzinc.com

, April 2014
---

Collected Wisdom™
Our researchers look for what they think are some of the better resources available to assist you in administering your plan or helping your clients. We group these resources in our COLLECTED WISDOM™ topics to make it easy for you to locate the information you need. Each item in a category contains a summary and date of when it was placed in the group.
We also maintain some older material in these collections for perspective and context.
---

Insight: Research and White Papers
There is a great deal of research published around defined contribution plans and related issues. We index much of it here.
Summary: Workers who report a change in their expected retirement age in 2014 most often cite the poor economy (25 percent), according to a new report from the nonpartisan Employee Benefit Research Institute. Other reasons cited included the inability to afford retirement (18 percent), a change in their employment situation (17 percent) and health care costs (12 percent).
Source: Ebri.org

, April 2014
Summary: Defined contribution plan consultants are concerned about rising rates, a low return environment and high volatility over the next three to five years, according to a survey by PIMCO. More than 70 percent of consultants surveyed said they are concerned or very concerned about each of these topics.
Source: Benefitspro.com, April 2014
---

Tools and Resources
Calculators, charts, samples, directories and other resources to help you run and manage your plan or practice.
---

Fiduciary Related News and Intelligence
These are general news and articles around fiduciary issues.
Summary: This AARP survey of employers that sponsor retirement savings plans examines a range of issues related to investment advice available to plan participants from the financial institutions that provide their plan. It reveals widespread support for holding advice to a "fiduciary" standard; that is, requiring advice offered by DC providers to individual plan participants to be in the best interest of the participants.
Source: Aarp.org

, April 2014
---

Legal, Legislative and Washington DC
This is a directory and index of articles that review recent court rulings, legal issues, and bills, hearings and other actions in Congress.
Summary: ERISA attorneys are an excellent resource and there are many reasons why a plan sponsor should hire one. This article will inform you on when it's the best time to call an ERISA attorney.
Source: Jdsupra.com, April 2014
---

Viewpoint: Commentary and Opinion
People speak out on a variety of issues of interest to those in the 401k industry. One of our most interesting areas, but remember, opinions expressed here are those of the author and do not necessarily reflect the positions of 401khelpcenter.com.
Summary: Brian H. Graff began serving as Executive Director/Chief Executive Officer of the American Society of Pension Professionals and Actuaries (ASPPA) in November 1996. He has made a name for himself as protector of the retirement plan, especially from sometimes misguided government reforms. What does he see as the biggest threats to retirement savers being talked about in state and federal legislative branches?
Source: Fiduciarynews.com, April 2014
---

Most Popular
Below you'll find this week's five most popular articles.